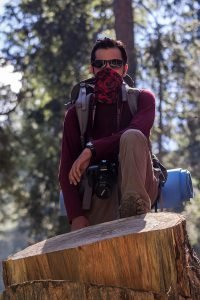 Hi,
I am Sher Ali Saafi, The Silent Traveler and owner of Sher Ali Photography. The Silent Traveler is my personal travelogue where I share my travel experiences with you beautiful people.
I am a software engineer by profession and currently a freelance Rockstar WordPress developer. If you are a software engineer then you know how boring is your life while sitting in front of computer most of the day. Traveling not only provides me an opportunity to refresh my mind but also to experience life in different perspectives.
When you start traveling then you start capturing moments as well so that not only you can share with others but also look back at them and enjoy those moments again and again. I am very passionate about landscape photography and try to capture the moments as I see them while I am lost in the wilderness.
I started trekking from Margalla trails after a friend's invitation in 2012 but there was no stopping after that. Since then I have done a lot of treks including K2 base camp & Gondogoro La (5,940m) trek, Snow lake trek, Karomber lake trek via Darkot pass (4,600m), Chitta Katha lake, a round trip around Nanga Parbat covering its Rupal (up to Mazeno base camp) and Fairy Meadows sides, various treks in Lulusar-Dudipatsar National Park, Saral lake trek, Ratti Gali lake trek via Dowarian pass and many other treks.
In August 2017 I plan to do Chillinji pass + Karomber lake + Darkot pass trek. In 2018 I plan to do Lukpe La trek from Shimshal to Askole. If you are an experienced trekker (must have done at least one 5,000+ meter high pass in last 3 years) and interested to join me then get in touch through my Facebook page at The Silent Traveler.
My Photography Work
You can find my photography work on my website at Sher Ali Photography or on Instagram at @sheraliphotography. You can also follow me on my personal Facebook profile using following social plugin:
Traveling is living!