Backpacking trip around Nanga Parbat is a two part series article and I have already written about Fairy meadows side of Nanga Parbat at Fairy Meadows and Nanga Parbat Base Camp Trekking Trip.
My first big trip to northern areas was a backpacking trip around Nanga Parbat in 2013. The trip was organized by Nature Explorers. We were 13 members from different cities. The first leg of the trip was on the Rupal side of Nanga Parbat in Astore valley. The second leg was the Fairy Meadows and Nanga Parbat base camp trek on the Diamer side.
Day 01: Islamabad to Astore valley
Our trip started from Islamabad via Natco bus. It took us almost 30 hours to reach Astore. There was a landslide on Karakoram Highway which delayed our journey by 5-6 hours. We reached so late in Astore valley that the hotels were closed and also booking rooms for couple of hours wasn't a wise idea. Since it was a backpacking trip so we weren't after luxuries right from the start. We did asked at a couple of hotels but they had no rooms available for rent at such late hours. So we requested the Natco bus driver to let us sleep in the bus for couple of hours to which he agreed.
Day 02: Explore Rama Meadows, Rama lake and Tirshing valley in Astore
After sleeping for couple of hours in the bus, we woke early in the morning, did breakfast from a small tea-pratha shop and booked 2 jeeps to take us to Rama meadows. It was drizzling in the morning so we had a pleasant weather on our first day in Astore valley. Most of us opted to sit on roottop of jeeps and sang songs loudly out of excitement.
The drive to Rama meadows was slow due to wet conditions. We reached Rama meadows in an hour, off loaded our daypacks and set off for Rama lake. Back then the road to Rama lake wasn't in good condition so we had to start from where the Rama meadows flat area end and ascend towards lake starts. By this time drizzling had also stopped.
In couple of hours all of us reached Rama lake. I was new to photography and it was Rama lake where I took my first self-shot with the help of a tripod. The sun was out but the weather was unpredictable so we took a group photo there and started our return journey to Rama meadows. After reaching Rama meadows we embarked on jeeps to Astore bazaar. We reached Astore bazaar, did our lunch and then we left for Tirishing valley. Sunset happened on our way hence we reached Tirishing in the dark.
One of our jeep driver was Jamshed from Tirishing who was already known to our late friend Waqas Siddique. He was a crazy driver but fun person. We stayed in Jamshed's hotel "Rupal Hotel Nanga Parbat Tarishing Astore". We spent the night in camps at the lawn of the hotel. I tried my hands at night photography for the first time.
Day 03: Tirishing valley to Herrligkoffer base camp
It was supposed to be our first trekking day of our trip. After breakfast at the hotel we started our trek towards Rupal valley. Just after 30 minutes walk through the vallage lead us to a ridge. Once we hiked that ridge then many of us saw something which we had not seen before in our lives. It was a glacier and it's name is Chhungphar glacier. It is not a big glacier but since it was our first time dealing with a glacier so we were cautious in our walks.
Soon we crossed the Chhungphar glacier and now we had entered the long lush green valley of Rupal. After a long day's trek through Rupal valley we finally reached the trail which would lead us to the Herrligkoffer base camp. The hike on that trail towards the base camp is very steep. I myself didn't felt well by end of the trail and I vomit. It is normal in the mountains to feel a little bit headache and feeling vomiting but once you omit then it all feels okay. At high altitude this happens and it is known as high altitude sickness. It can be severe as well if you feel dizziness. One main reason is that we are not acclimatized to such atmosphere so we should divide our trip in stages to go towards high altitude in stages.
Like I said I felt totally fine once I vomit there and reached Herrligkoffer base camp with the rest of the group. It was around 4pm so we had plenty of time. Some of us decided to go further up on a ridge from where we could see the base of the Nanga Parbat mountain. Though weather was not clear so we couldn't see the top of the mountain. Around sunset we came down to camp site where now there was another group of 3 members including a foreginer.
Dinner was prepared and bonfire was arranged where the group did lots of gossips. I myself was inside camp but was listening to all the stories. Our guide jamshed told many stories about fairies at Herrligkoffer base camp. This definitely scared one of the member who could hardly sleep that night. 😀
Day 04: Herrligkoffer base camp to Shigiri camp site
While we were asleep in our camps, our guide started knocking at our camps. He wanted us to come out of camps and see something unexpected. I came out of camp and saw something amazing and that too in June. It had snowed overnight and the base camp was totally blanked by white flurries of snow. The weather was clearing in the morning and then Nanga Parbat showed her face to us. It was such a beautiful sight that one couldn't take of his/her eyes off of her beautiful face. I was lucky to capture Nanga Parbat on that morning.
Meanwhile everyone was awake and breakfast was ready. We did our breakfast and were ready to start the trek towards our next destination of Shigiri camp site. Since it was June so the snow was melting fast and by the time we started the trek the snow was almost gone.
Like previous day once again we had to cross a glacier at the very beginning of our trek. This time it was Bazhin glacier. After crossing the glacier we descended towards the beautiful Top meadows. We did a short break there and talked to local boys who were grazing their herds there. After the break we resumed our trek towards Latoboh. In an hour we reached Latoboh which is a wide open sandy area and there was a small village as well. We didn't go towards the village on the right instead we kept going straight to cross the stream towards left side. After couple of hours of trekking we reached Chillain village. It was a small village consisting of 7-8 homes. We did tea break there and had some chit chat with locals.
One of our members Syed Irfan Ahmed from Lahore had brought couple of bags of medicines for the villagers. It was the first village where we gave them medicines for common diseases like headache, Arthralgia etc. They were pleased at our gesture and offered us lunch.
We tried to buy a goat from Chillain but we couldn't settle on the price so we left for Shigiri camp site. For this we had to cross the stream towards right side. We reached Shigiri camp site right at sunset time. As we were preparing bonfire and dinner the locals from Chillain brought us a goat and said it was a gift. I am sure we paid them an amount but don't remember how much. Anyway it was party time and that too after 2 days of tiring trek.The campsite was at a very closed place so there wasn't much to do hence we went asleep after the dinner.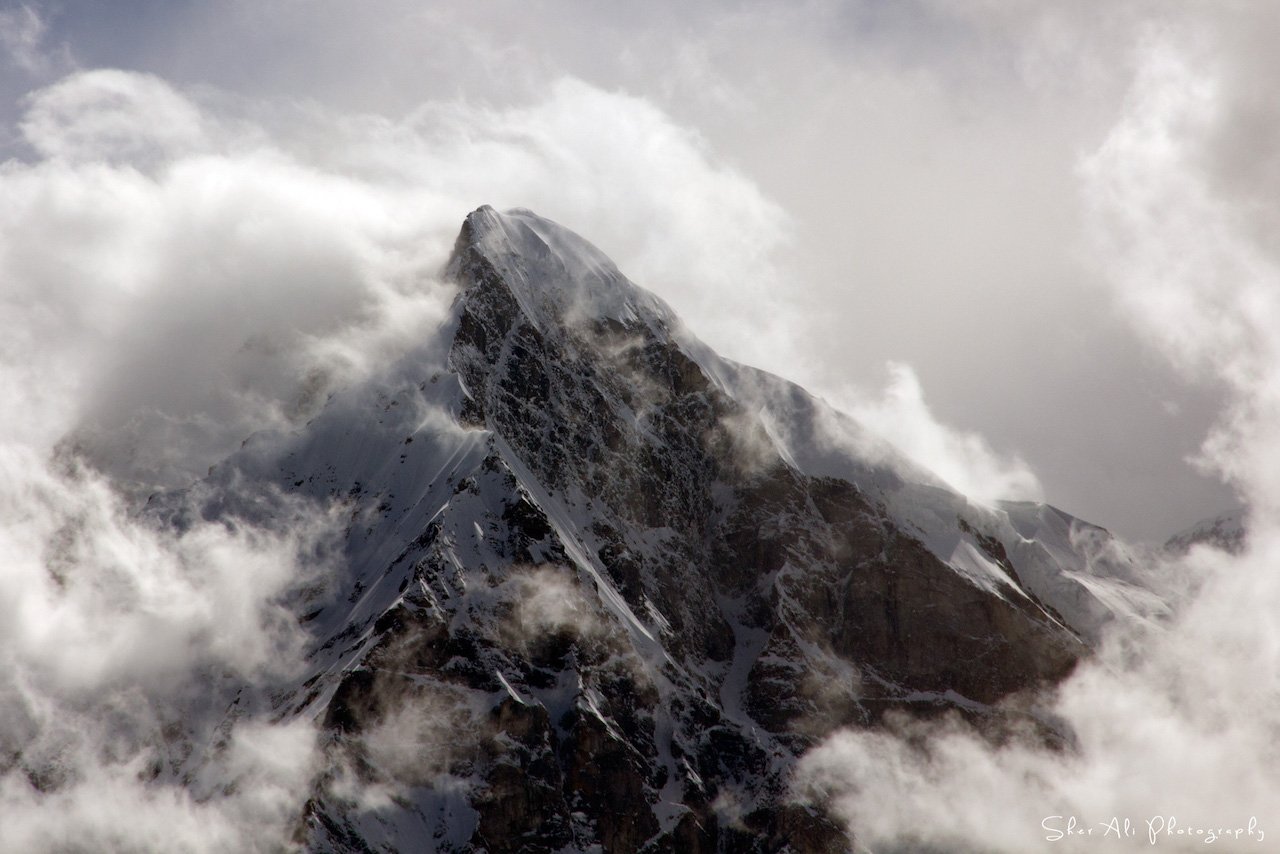 Day 05: Shigiri camp site to Mazeno base camp
Shigiri is a peak across the stream hence the name of this camp site. We did our breakfast and departed for Mazeno base camp. It was going to be a long tiring day mostly through boulders. There wasn't any clean water on the trek so in a hot sunny day so it wasn't easy to walk such a long distance.
By afternoon we reached Mazeno base camp. Yasir Khursheed and Mehroz Khan Niazi had a different plan so they left for Mazeno pass. I think had not done their homework properly as Mazeno pass is at 2 days trek distance. Some of us climbed on the backside of our camps to see what was around. As we climbed up there were even higher peaks on the back so we couldn't see much. The sunshine felt good in the fading light and cold winds. Yasir and Mehroz returned after the sunset.
The cook, one of the porter, had baked less breads that night so 2 of our friends were not happy. They baked breads themselves and to fill their bellies. We went asleep in one of the remotest valleys of northern areas of Pakistan.
Day 06: Mazeno base camp to Latoboh
Today we were supposed to trek back to Latoboh which was more than coming back to Shigiri camp site. After breakfast we started our return journey. On our way back we bought another goat from Chillain village. We reached Latoboh well before sunset. There was a team of climbers to climb Nanga Parbat from Latoboh. We pictched our camps near the village in front of a big boulder.
Yasir and his cousin were determined to cook the goat in Dampukh but they failed to do so after trying the whole night. At such high altitude the fire is less effective. Rest of us spent almost whole night playing cards in hope that Dampukh will be served to them but eventually we had to sleep without dinner. The half roasted goat was given to the villagers.
That night I tried my hands at night photography. Though I found the milkyways but the clouds were hindering my view. The above photo of Nanga Parbat was captured on that night.
Day 07: Latoboh to Tirishing
In the morning Irfan bhae handed over one of the medicine bags to the locals. It was the last trekking day of our "Backpacking Trip Around Nanga Parbat". We did breakfast and left for Tirishing. I myself climbed up a little behind the village to have a look at the Latoboh lake and honestly I regretted the effort as it was just a huge pond of muddy water. We didn't follow the exact route on our way back to Tirishing instead we followed the right side of Top meadows to avoid the Bazhin glacier.
We reached Tirishing village before sunset. This time we stayed in rooms instead of pitching our camps in the lawn. It was a basic hotel so there wasn't much to be expected. Hot water was arranged for those who wanted to take a bath.
Day 08: Tirishing to Astore Bazaar
After breakfast in the morning many of us went to a local shop which had ptcl phone so we all called back our homes to them updates. After the breakfast we left for Astore. I cannot recall the hotel name where we stayed but was good. There was some famous mountaineer at the hotel so lots of activities were going there.
I was disappointed to know that I had left my camera battery charger at home. Only Mehroz had DSLR but he was a Nikon user while I had Canon 60D. I preferred to rest and stay in our room. After dinner we called it a night.
For the 2nd part of the "Backpacking Trip Around Nanga Parbat" please head to Fairy Meadows and Nanga Parbat Base Camp Trekking Trip.