Khaltaro valley in greater Haramosh valley is truly a hidden gem of Gilgit Baltistan region. Haramosh valley is in Gilgit district and lies on Skardu road at 2 hours drive from Gilgit city. Haramosh is attracting lots of tourists due to another sub-valley known as Kutwal.
Mustansar Hussain Tarar sahab's book "Haramosh Naqabil-e-Faramosh" and TV show "Safar Shart Hai" has played a major role in promotion on Kutal, Haramosh but Khaltaro valley remains explored till today. Haramosh pass , which connects Kutwal, Haramosh with Arund, Shigar valley, is another reason that Kutwal attracts adventure seakers than Khaltaro. Khaltaro also offers a pass known as Rakhan Gali to adventure seekers.
Rakhan Gali is a shorter and easier pass than Haramosh pass but it still worth doing it. If you are trekker, have experience of crossing high altitude passes and you plan to explore Khaltaro valley than it is not a bad idea to include Rakhan Gali in your plan. That is exactly what I did in end of August 2019.
During my Chillinji pass expedition for the first time I heard about Rakhan Gali pass, connecting Khaltaro in Haramosh with Bagrote in Gilgit, from fellow trekker Amjed Ali. Amjed wanted me to join him sometime in future to take on Rakhan Gali pass but I didn't show much interest back then. Finally when I decided to explore Kutwal valley back in autumn 2018 then I expanded my search around Haramosh valley and noticed that there is an adjacent sub-valley of Kutwal with the name of Khaltaro. Khaltaro seemed much narrow but yet very greener than Kutwal on Google maps. I also found some photos, taken by locals of Khaltaro valley, which increased my interest in Khaltaro valley.
In mid October 2018 I along with Faysal Abbasi and Uzair Ahmad went to explore Kutwal valley. I took this opportunity and gathered information regarding Khaltaro valley from locals there. I went to Kutwal again in June 2019 but this time with a large group of 20 people. This time we stayed at Shahtoot hotel in Sassi where I met Nisar Raki, the owner of the hotel, from Khaltaro valley and he added to the fuel of exploring Khaltaro valley.
Since I didn't want to do any major trek in 2019, due to financial and family reasons, so I decided to go for Rakhan Gali pass in end of August.
After my wonderful exploration trip of Riat lake in Astore valley and Bilor Kassi valley in Neelum valley I kicked off Khaltaro valley exploration with my new trekking partner Yasir Riaz, his partner Saad Ilyas and an old trekking fellow Haseeb Aslam Butt.
We started our trip on 27th of August 2019 from Islamabad to Gilgit in newly started bus service of Faisal movers. The Faisal mover's bus experience was much than Natco. The bus was clean and had entertainment features for individuals. The fair was Rs. 2,700/seat and offered snacks and cold drinks just like you get when travelling in these buses on Motorway. I highly appreciate this initiation of Faisal Movers because it gives alternate and better options to commuters who travel through public transport.
Islamabad to Sassi, Haramosh (day 1)
We started our journey at 1:00 am from Islamabad and reached Naran early in the morning. The bus stopped for few minutes to drop some passengers and pick others who wanted to go to Hunza. We reached Babusar pass at 10am and did breakfast on Chilas side of Babusar pass.
We reached Gilgit city at around 3pm. As we were collecting our luggage from the bus that a familiar driver, Ansaar from Gilgit, drove his car in front of us and asked us about our destination. I along with Faysal Abbasi had travelled with him back in 2017 during my spring trip. There wasn't much dealing with him so he stuffed all of our luggage in the trunk of his car and off were were to Sassi.
After couple of hours of bumpy drive we reached Shahtoot hotel in Sassi. Nisar Raki himself wasn't there but arrived in an hour. It was almost off season there were not any other tourists at the hotel except 2 foreigners who arrived after us.
I had kept in touch with Nisar Raki and had asked him to make arrangements for our Khaltaro and Rakhan Gali expedition. Since hardly anyone had been to Khaltaro valley let alone to Rakhan Gali pass so it was hard to find a guide for Rakhan Gali pass. I myself had found a local of Khaltaro valley through internet who had done Rakhan Gali pass twice but he wasn't available as he was working as a manager for Faisal Movers in Gilgit city.
Nisar made all the necessary arrangements for our expedition but the guys who were supposed to take us over Rakhan Gali hadn't themselves done it before.
Adventurous Jeep Ride to Khaltaro Valley and Hike to Khun Meadows (day 2)
At 7am in the morning of 28th August we set off for Khaltaro valley in 4×4 jeep. The road to Khaltaro valley was much longer than the one to Kutwal valley. It was also much dangerous than the road from Raikot bridge to Tattu village for Fairy meadows.
At 10am we reached Khaltaro village and found out that the school, where we were supposed to meet our guides, was closed for the day. There was a tiny shop where there few locals so seeked their help. They were eager to help us but none of them had done Rakhan Gali pass which is why we didn't hire any of them. Eventually a gentlemen came and said I am your guy for this expedition as I regularly go over Rakhan Gali pass to take Yaks for sale in Gilgit city.
I myself was very happy to hear that but he was asking for more than what usually guides charge in the northern areas. We had no choice than to hire him along with his nephew who was accompanying him at that moment. We needed at least 1 more person so guide helped us hire another person along with his mule. For that day and the next day we carried our loads on that mule but had no choice for the 3rd day when we had to cross Rakhan Gali pass towards Bagrote valley.
Hike to Khun Meadows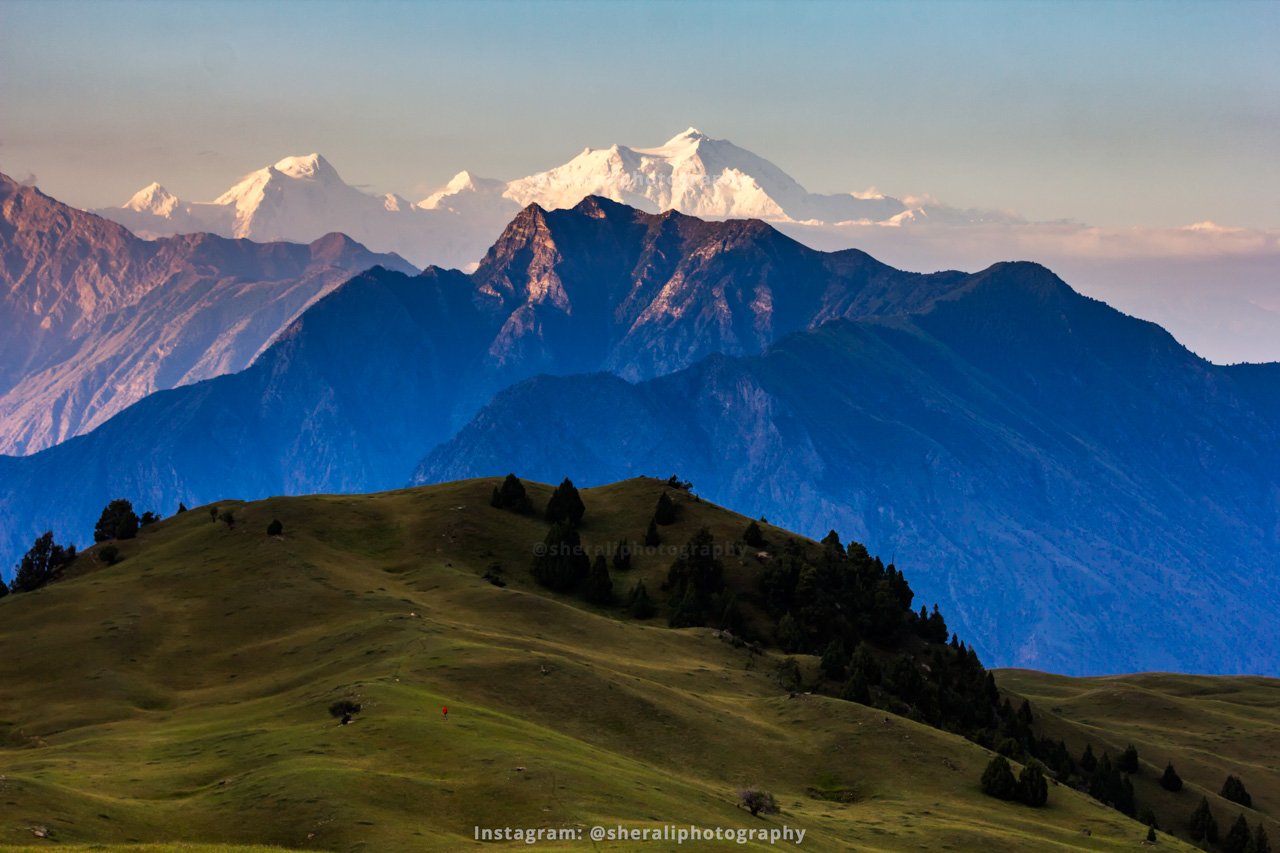 Before we could start hiking on our first day towards Khun Meadows, a young man, Basharat Ali Hadul, insisted that we should go to his home for a cup of tea. We accepted his offer and went with him. Few minutes later his uncle arrived and said we should shift to mehman khana at his adjacent home. To our surprise he was the brother of Nisar Raki with whom we were supposed to meet at school regarding our arrangements of guide for Rakhan Gali pass.
We were served tea with local bread and butter. After the brunch we exchanged contacts with our hosts, thanked them and formally started our trek towards our first destination i.e. Khaltaro Khun.
I had heard a lot about Khun Meadows from locals that how beautiful it is so I was excited to see this beautiful meadows myself. Drizzling, which I love during trekking, started as soon as we started our trek. Khaltaro valley is very narrow and trek was along the stream coming from the Pamiri (the end of valley). There were not many houses along the trek except few and one of them belonged to our guide.
After few minutes of hike my guide stopped and decided to collect some apricots for us. Then we continued hike till the home of our guide. At that time he told us to continue hike to Khun meadows with the 2 porters and he will come to us later in the evening. Actually we hadn't brought much food, except canned food for 3 nights, with us for this trek and had made it part of the deal with the guide that he will provide us provide bread and local food like Lassi, Yogurt, Butter etc. This is why he stayed back at his home to make bread for our dinner and also bring us water for drinking.
After guide's home the trek went through pine forest. After couple of hours of trekking in very slow manner we made to the Khun meadows. Khun is a beautiful meadows, with small pine trees here and there, but it doesn't have any source of water hence making it difficult for inhabitance. I think it is a good thing otherwise you know how we destroy beautiful places like Khun meadows with non-echo friendly construction and garbage.
It was getting dark and we wanted to find a suitable space for camping not only from comfortable sleeping but also for better views of peaks during sunset and sunrise. The porters had no interest in photography so they didn't understand our hunt for such a spot. Eventually we settled for a spot which had views towards Haramosh-I, Malubiting and few other peaks.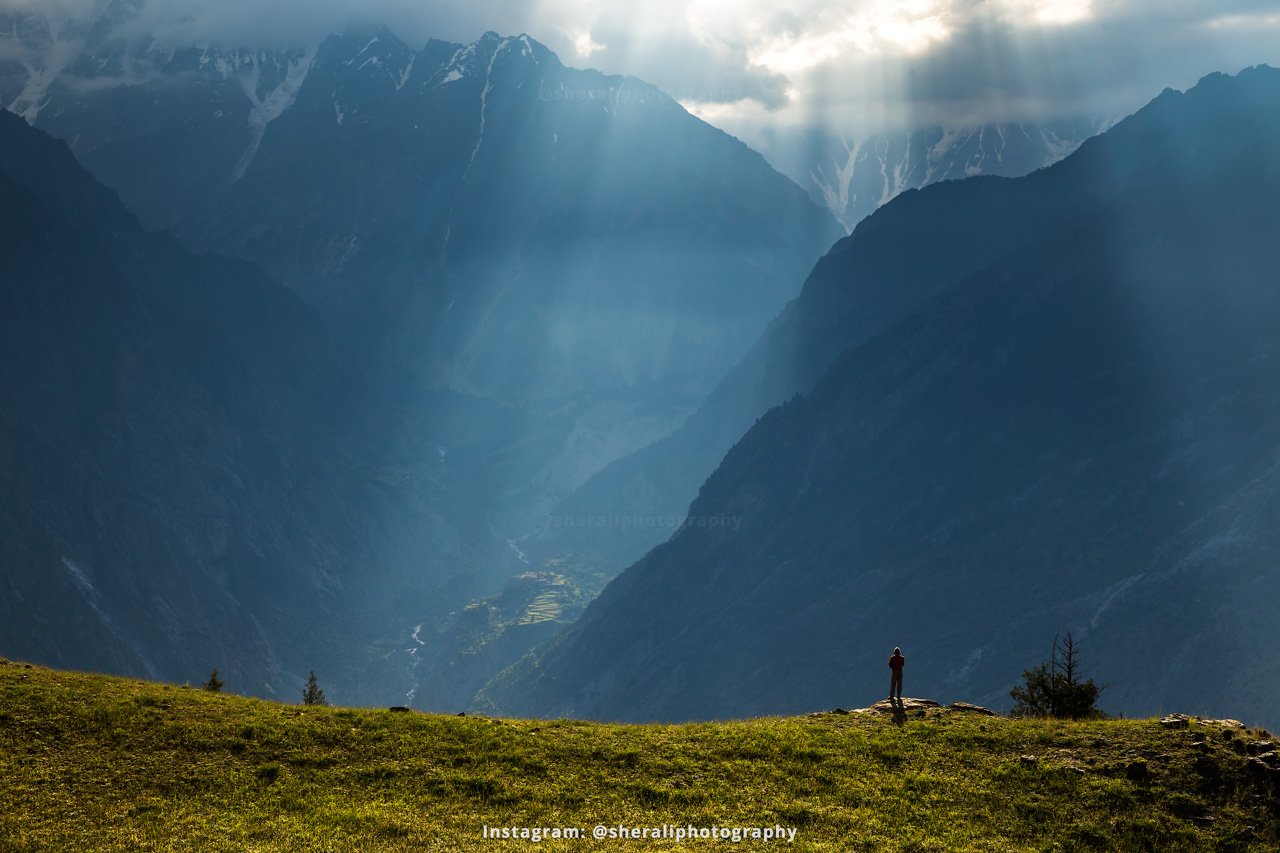 We setup our camps and I myself took a stroll in the meadows for taking some landscape shots. I went to a spot from where I could have a better view of Bilchar Dobani peak (6,143 m) but it was covered in clouds. From the same spot we could see Nanga Parbat in clear weather but unfortunately that side was also covered in clouds. During my shoot I saw our guide coming towards me though from a very different direction than the trail from his home. I guess he was looking for our campsite and went a little away finding us. Me and guide came back to our campsite. The porters had already light up bonfire for themselves. We all sat around the bonfire and shortly we prepared our dinner (canned chickpeas with the bread which our guide had just brought for us). I prepared green tea after dinner and after that we called it night. We had 2 camps so used ourselves and gave the 2nd one to guide and porters for spending night.
Khun Meadows to Rakhan Gali Basecamp (day 3)
I had set alarm for 5am in order to be ready for sunrise shoot. Alarm rang and we all were out of camps in no time. First Haseeb and Yasir went towards the spot, where I had gone last evening, for capturing first light on Nanga Parbat and then I went after them after setting up my GoPro for timelapse.
We were lucky to find Nanga Parbat with clear weather and with her all glory from miles away at Khun meadows. Since all other major peaks were covered in clouds so Nanga Parbat took all our attention. The sunrise did create a beautiful light show towards Haramosh-I peak and I was lucky to capture some of my best shots during that beautiful morning.
After photo session, which lasted for more than 2 hours, we went back to campsite where Saad, guide and porters had already prepared the breakfast. We did our breakfast, packed our camps and started hike back towards guide's home. Our guide went to his home to leave some of the stuff there while we followed the trail with the porters towards our destination of the day. This day we had to camp at the end of Khaltaro valley and make it as our basecamp of Rakhan gali.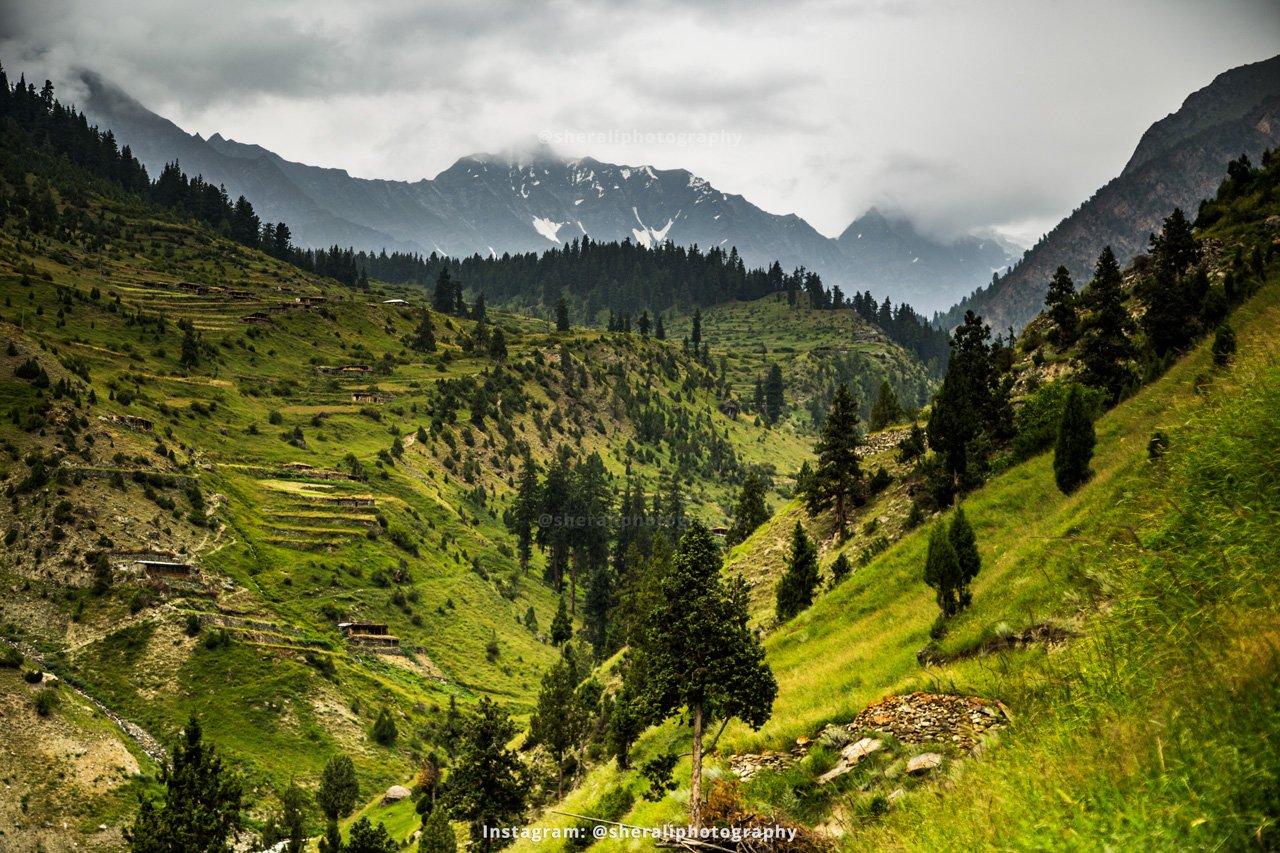 It was a bright sunny day but the the trek was mostly through pine forest which saved us from dehydration. After couple of hours of trek we reached Darchan where they have fencing to prevent yaks from going down during peak summer season. There are few homes at Darchan and one of them belonged to our guide's elder brother. Our guide took us to his home for tea break. We were served with tea, lassi, butter and bread. After the break we started moving towards Pamiri, the last summer settlement of Khaltaro valley. Pimiri was a large village compared to the scattered homes throughout the valley. Yasir flew his drone over the village and almost everyone was surprised to see such a small plane flying over their homes.
We didn't rush so we enjoyed our hike with lots of breaks on the way to our destination. We reached our campsite at around 5pm.
The end of valley is surrounded by mountains bordering Nagar valley. There are 7 waterfalls at the end of the valley which required another 30-4o minutes hike. We didn't go towards waterfalls because some of them were dried due to late season. There is another meadow called Rayjud where in 2019 a cultural festival was held to promote tourism in Khaltaro valley. Due to time constraints we had to skip exploring Rayjud meadows.
We pitched our camps and tried to light up bonfire. Guide and porters went back to summer settlement spend night there. After couple of hours our guide came back with bread and then we did our dinner. Our guide went back to his home and we 4 members team called it night.
Raghan Gali basecamp to Bagrote valley (day 4)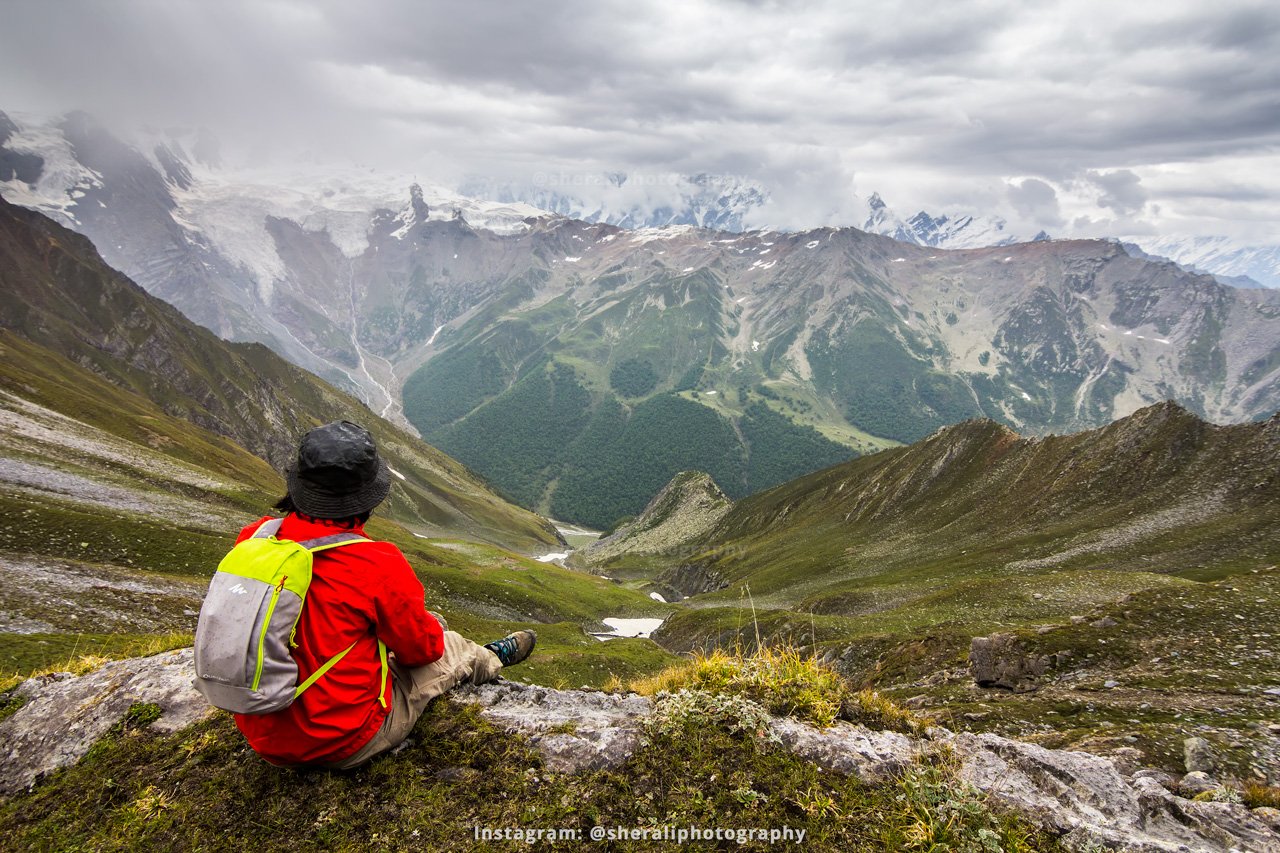 Today was a big day as we had to cross Rakhan Gali towards Bagrote valley in Gilgit. We were supposed to spend night at Gargoo, which is a summer settlement for the people of Bagrote valley, but we ended up at Gilgit City at late night.
As per our plan we had to leave for the trek at 7am. Though the porters arrived at our campsite on time but the guide took sometime. He reached our campsite at around 7am with bread so then we did our breakfast. After breakfast we formally started our trek towards Rakhan Gali. First 20 minutes were on plan towards the waterfalls and then all of a sudden the hike was too steep. The trail was used by Yaks and goats. A local shepherd from the Pamiri village had also joined us to search for his lost goats. Since the hike was too steep so our pace was very slow especially for the first hour where we had to be careful because of rockfalls. The shepherd parted ways with us once we reached a little open area on the trail.
We kept going upwards in zigzag trails. At around 1pm we did our lunch break with butter and dried bread. After break we continued our hike and reached the pass at around 3pm. Near the top there was some snow on the Khaltaro side and a huge wall of snow at the top but no snow on the Bagrote side. Yasir tried to avoid the snow so took a detour which made us all worried for a moment but it was all fine once our guide found him and brought him to the top where we were waiting for him.
After spending almost an hour at the top we started our descent towards Bagrote valley. The descent towards Bagrote valley was as steep as the ascend from Khaltaro side. But there was much more scree on Bagrote side which made our descent quite challenging. It took us almost 3 hours to complete the descent towards Gargoo village. Once we were on flat section of descent then we took a green tea break. We reach Gargoo village by 6:30pm. After talking to each other we decided to skip campig at Gargoo and instead try to reach Gilgit for night. Especially Yasir wanted to have a hot shower at Gilgit so he was quite in hurry.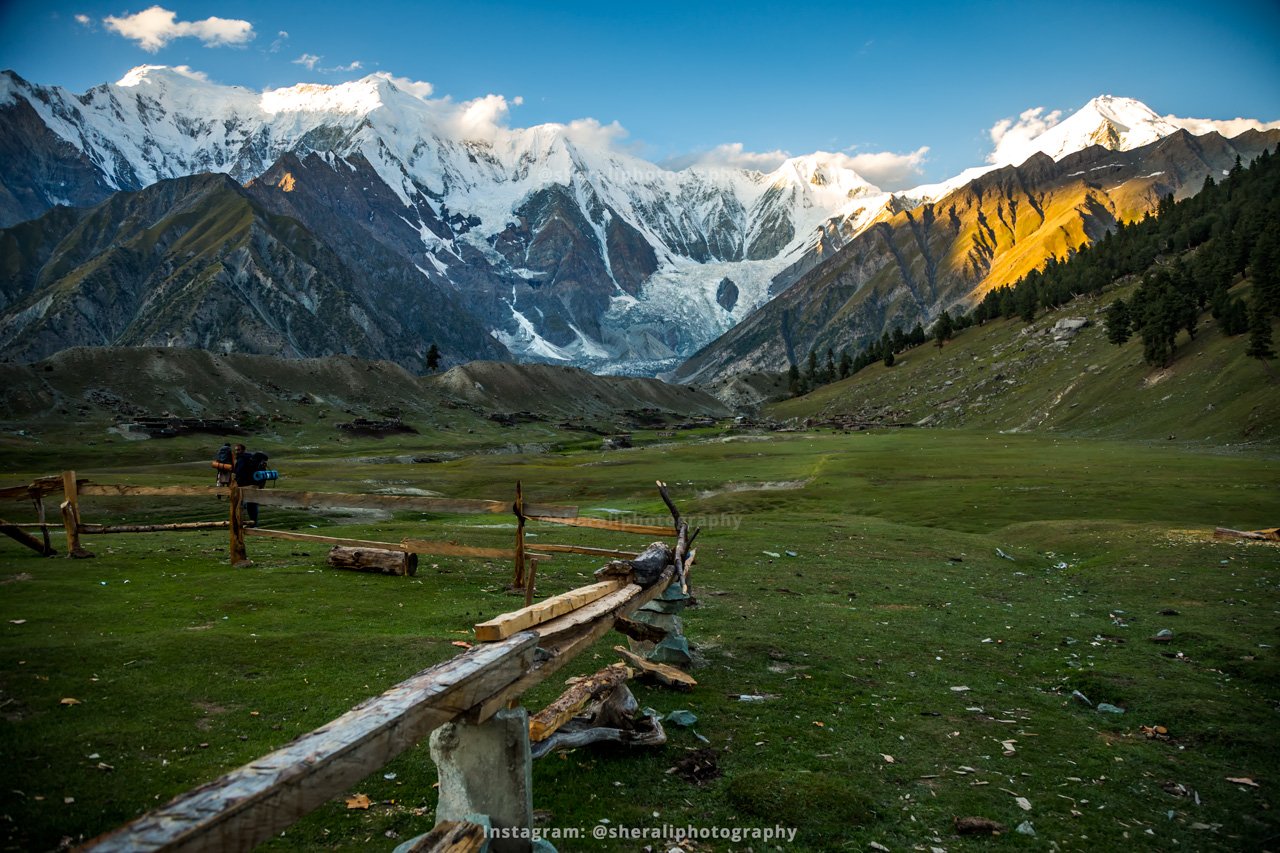 Gargoo was a nice village with stunning views of Diran and Miar peaks. Thanks to Yasir that he spoted a pond where we could see the reflection of these mighty mountains. Me and Yasir went for quickest possible reflection shoot of Diar and Miar peaks through the pond. We put ourselves on 4th gear and started trek along Lawinenkegel Glacier towards Gusounr from where we would catch 4×4 jeep for Gilgit city. Luckily we didn't have to deal with glacier except couple of patches of few minutes. But the trek was long and tedious especially that we already had a tough day of crossing Rakhan Gali. On the top we didn't eat much. At around 10pm we reach the mobile signal area near Gusounr village where our guide contacted one of his friends, who owned 4×4 jeep, to take us to Gilgit city. We settled on Rs. 4,500 over the phone.
During the deal over the phone our guide realised that he forgot his bag at our last break spot. So he ran back towards that spot and brought his bag while we waited for the jeep to arrive. Finally jeep arrived and we just threw ourselves in the back of the jeep. Haseeb and guide took the front seats and me, Yasir, Saad and the 2 porters sat in the open back of the jeep.
The road was too bumpy which made our journey quite uncomfortable after the day long trekking. We sigh of releef once we hit KKH. Finally we reached Gilgit city at 1am. It took us 14 hours on trek from basecamp on Khaltaro side to Gusounr village on Bagrote side and then 2 hours bumpy jeep ride to Gilgit city with 1 hour of wait for jeep. This means we had a long expedition of 17 hours from Khaltaro to Gilgit city.
Gilgit to Islamabad (day 5)
I wanted to depart from Gilgit as early as possible but my fellows didn't agree with me. They wanted to get at least 4-5 hours of sleep and then leave for Islamabad. We checked out of hotel at around 8am and left for Nashta hotel near bus adda. Our first priority was booking a taxi car to ouselves hence me and Yasir went for that while Haseeb and Saad waited at Nashta hotel. It took us sometime to strike a deal but we eventually managed to book a car for Rs. 15,000. Finally we did our breakfast and started our return journey towards Islamabad.
We did our mandatory stop at Babusar top. Ate delicious kebabs from Abbotabad and reach Islamabad by evening. It was a wonderful trekking trip in untouched valleys of Khaltaro and Bagrote. We couldn't see much in Bagrote valley as we trekked and drove through it in the dark. We reached the last village of Gargoo in Bagrote valley just around sunset and I totally loved it's landscape with Diran peak at its backdrop.
If you plan to explore the valleys of Kutwal and Khaltaro in Haramosh then you should get in touch Nisar Raki of Shahtoot hotel in Shahtoot, Haramosh. For Rakhan Gali pass I highly recommend Haider from Khaltaro as he knows this route very well and overall a very cooperative person.
If you find Khaltaro valley and Rakhan Gali interesting destinations for your next trip then do share this travelogue with your friends/group.
Also read: