Bashkargol lake is one true hidden gem of district Chitral in Khyberpakhtunkhwa. It is big, it is beautiful and it has different modes for different times of the day. By evening it seems like a shore a sea and by morning it seems like a giant still mirror.
Bashkargol lake is situated 24km away Sor Laspur village. The trek is very rough, tough and steep. For couple of hours the trek goes along the river which comes from the Bashkargol lake. After crossing a stream, coming from Manial pass, the trek suddenly gains lots of altitude. The trail on the left side of the river is the one which we followed during our trek. We could see a smoother trail on the other side but not sure if there was any option to cross the river.
To complete 24km long trek in a single day to reach lake requires fitness, will power and time management. From Sor Laspur you can start early in the morning to reach Bashkargol lake by evening. Next day you can walk across the lake to explore the valley a little further. On 3rd day you can come back to Sor Laspur.
We didn't explore Bashkargol lake from Sor Laspur. Instead we explored it from Kumrat side and went down to Sor Laspur. This is longer and more difficult route because you have to cross Thallo pass.
Day 01: Islamabad to Jandrai
The trip started early in the morning from Faizabad interchange with a large group of travellers. We did breakfast at Mardan and Lunch around Timergara. Since the trip was happening after Eid Ul Fitr so there was still traffic rush on the roads. We reached Thal at around 8pm. We were supposed to spend our first night at Jandrai village. I was in touch with Raj Taj of Jandrai who is the caretaker of a museum over there and facilitates tourists. He sent 3 vehicles to take us to Jandrai. We reached Jandrai at around 11pm. We did dinner and called it night after a long journey.
Day 02: Jandrai to Jahaz Banda Meadows
We did breakfast at Jandrai Museum and then started hiking towards Jahaz Banda meadows. From Jandrai one can go to Takai top in 4×4 and then start hiking from there. From Takai top it takes around 2 hours to reach Jahaz Banda meadows while from Jandrai it takes around 4 hours. The trek first goes through couple of villages along a stream and then it goes through pine forest.
Members enjoyed the hike through the pine forest. We did stops at various points and did lots of gossips. At midpoint of the the trek there is a small meadow where we did the longest break. It is a beautiful meadow with wide open views towards Uper Dir city and Chitral. Just before the Jahaz Banda meadows there are huts on the track most of us bought fries and tea.
Since this early part of the trip consisted of a larger group so some members reached the destination early than the others. We were welcomed by Raja Taj at forest department's guesthouse. The guesthouse has 2 rooms, a dining hall, a washroom and a kitchen.
Raja Taj is a very dynamic and interesting person. He likes gossips, clapps a lot and raise slogans, like Nar-e-Takbeer or Pakistan Zindabad, often. He loves to be photographed so don't hesitate to take selfies with him.
Most of us opted to stay in the 2 rooms and some opted to stay in the camps outside in the lawn. Most of us went to sleep after dinner but some opted to sit around bone-fire in the lawn.
Day 03: Jahaz Banda Meadows to Katora Lake
We did breakfast and then we started hiking towards Katora lake. The first 20-25 minutes is walk in which we also cross the stream coming from Katora lake. Then uphill hike comes up for next 30-40 minutes. Next 2 hours is trekking mostly through boulders. Right before the lake you have to climb a rocky section where one must be very carefull. As soon as you climb the rocky section you are at beautiful Katora lake.
Almost everyone reached Katora lake by 12:00 pm. Everyone had a great time at the lake. After spending couple of hours at the lake we decided to move back to Jahaz Banda meadows. By 5pm were already at the guesthouse where once again Raja Taj welcomed us after successful trek of Katora lake.
Hiking is a tiring activity so everyone was tired and wanted to go to sleep asap. So we ordered an early dinner from the kitchen and called it a night.
Day 04: Jahaz Banda Meadows to Kumrat Forest
On day 4 our target was to trek down to Jandrai and then drive to Kumrat valley. After breakfast we hiked down to Jandrai. We did our lunch at Jandrai and then departed for Kumrat valley. By evening we reach Kumrat forest where we booked hut rooms for the group.
I requested the hotel owner to arrange us a guide and porters for our extended trip of Bashkargol lake via Thallo pass. There were some locals at the hotel with whom the hotel talked to see if they were willing to go on trip but they didn't show any interest. Meanwhile everyone went here and there for time pass.
The hotel owner assured me that he will arrange the guide and porters. As usual we did dinner and then called it night.
Day 05: Kumrat Forest to Charote Banda
Today was the day when 4 of us had to depart for the extended trip of Bashkargol lake via Thallo pass. I had arranged 3 vehicles for the group out of which 2 were for the members of the normal trip while 1 was for our extended trip. So we got separated from the rest of the group and started our journey towards Do Janga, the last point of Kumrat valley till where jeeps can go.
It was a beautiful day and I myself enjoyed it by sitting at the top of the jeep. We did our first stop at Kala Chashma where we ate some pakoray. It started raining soon we moved ahead from Kala Chashma. There is a V8 vehicle ahead of us which was also going towards Do Janga. We came across a flooding Nulla which took us time to cross because of the unstable condition of rocks in the waters.
After some time rain stopped and then our jeep driver stopped the vehicle at middle of the dirt road. he went to a house couple of hundreds feet above the road which belonged to his relatives. He brought us tea from there. His relative also came down with him and had a huge round shape cheese in his hands. Our guide wanted us to buy it as it would help us with energy on the trek. He was asking Rs. 3,000 for it but after little bargaining we bought it for Rs. 2,500.
After tea break we continued our journey towards Do Janga. By 3pm we were at Do Janga where we offloaded our luggage, cleared the dues of the driver and started trekking towards our first campsite of Charote Banda. It was easy walk through the forest. We did break at the exact point where two rivers meet hence giving this place the name of Do Janga. One river comes from Thallo pass side of Kumrat valley while the other one comes from the valley between Shahi Bagh in Swat and Kumrat valley.
There was a shepherd's home across the river. One of the porter went across there by crossing a wooden bridge and brought us Lassi. After prayer and Lassi break once again we continued our journey towards Charote Banda. It took us 2 hours of easy walk through the forest to reach Charote Banda. There was a small village but we opted to pitch our camps a little away from the villagers because we didn't to disturb their privacy.
Day 06: Charote Banda to Thallo Pass Base Camp
We did our breakfast in the morning and started the hike towards Thallo pass base camp. On average this was an easy day. We passed through some of the beautiful meadows on our way. As it was June so the wild flora hadn't blossomed to its fullest. I am sure these meadows will look much more beautiful with all those colorful wild flowers.
The first hour was through the forestry area (those paper trees) and then we were in an open area called Isgaloo. We did a little mangoes party after Isgaloo. Now we were gaining altitude and after little steep hike we were at Shahi Gor. Shahi Gor was beautiful meadow and there were so many fresh calves which I have never seen anywhere before. At the end of the meadows we did prayer stop at a mosque. When we finished our prayers then a local villager came to us and started gossips with our guide. The local villager called out someone at his home to bring us fresh goat milk and also make tea for us.
After prayer and tea break we resumed our journey towards our destination. After an hour of hike we reached the last meadows, Shahzore Banda, of Kumrat valley. Shahzore is beautiful alpine meadows surrounded by high-rise mountains. A clean water stream in the middle and lots of cattle grazing on both sides adds to the beauty of this heavenly place.
At the end of Shahzore banda we had to gain some steep altitude. Glacial moraine was in our way which took us sometime to cross. After that glacial moraine we were Shahzore lake. It is small but long shape lake with very less depth hence doesn't appeal visitors that much. At this point we had to cross a small but gushing stream. We didn't want to take off our shoes and jumping over the stream seemed big task for us. After few minutes we jumped and crossed the stream with the help of our guide.
Another 30 minutes hike and we were at our destination of Thallo pass base camp. There wasn't any suitable place for camping so we chose a spot and did little clearing to pitch our camps. Our guide readied the bonefire for one last time in Kumrat valley as next day we would be in Bashkargol valley. As usual we did early dinner and went to camps for much needed sleep .
Day 07: Thallo Pass Base Camp to Zhagi Chhat (lake)
It was a big day as we had to cross Thallo pass and finally explore the other half of the trek. After quick breakfast we start hike through the moraine and reached the corridor through two mountains. This narrow corridor was filled with snow because of getting little sunshine. The snow though was hard, slippery and hike was very steep so it all added to the struggle.
Once we were out of that corridor sun was rising fast hence making the snow soft. With couple of short rest breaks we were at Thallo pass top by 10:30am. We celebrated with a small snacks party and did a photo-shoot of our milestone. But it was just the start of the day's trek so without wasting much time we started moving ahead. Unlike other passes, where there is usually quick ascend/descend on both sides of pass, Thallo pass was very long without any descend. So we trekked through snow pass for couple of hours.
It took us 4 hours to trek through the pass and finally started descending in the valley towards Bashkargol lake. As per our original plan we were supposed to camp near Zhagi lake but June was early season so we found Zhagi lake 90% frozen and the surroundings were filled with snow as well. So we opted to continue and cover as much area as we could before the dawn.
We were now trekking o the left side of the Bashkargol river originating from Zhagi lake. After couple of hours of trek we reached a point where we had no choice but to cross the river to the other side. On the other side there was a very high ridge, usually feature of glaciers in the mountains, which was blocking our view down in the valley. Our guide was quick and crossed the river to climb that ridge and have a look at the valley. He found the trail and said that we have to cross glacier moraine.
Since it was evening so the river was in full flow. We had to be careful and choose relatively easy spot for crossing the river. Then the water was too cold and there were stingy rocks under the water which made it difficult for us to cross the river. With the help of our guide and porters we eventually crossed the river. After an hour of trek through the glacial moraine we stopped at uneasy spot to call it a day. There was no clean drinking water but we had no choice but pitch our camps and rest for the night. After early dinner we were in deep sleep.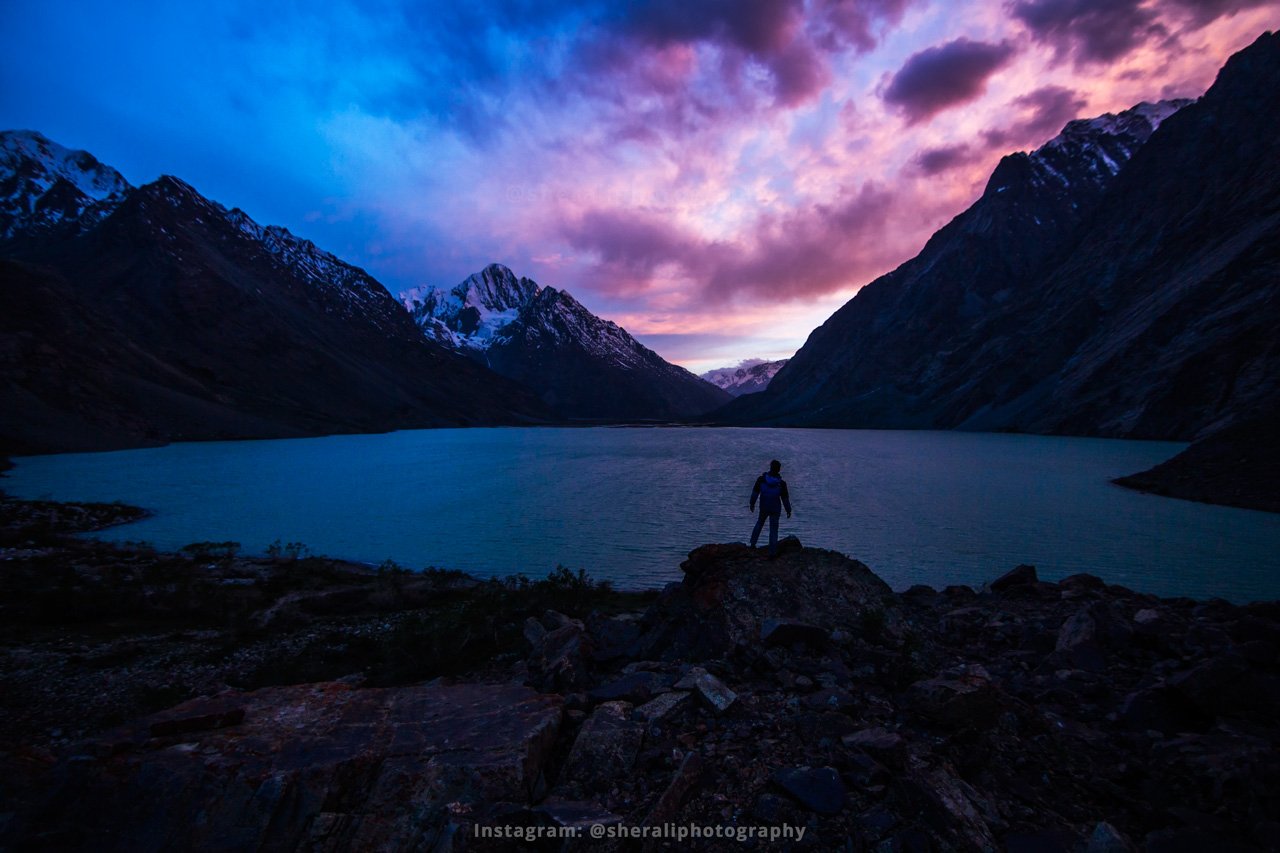 Day 08: Zhagi Chhat to Bashkargol Lake
In the morning we spoke up to a bright sunny day. I had a great view of a waterfall across the valley. We wanted to move as quickly as possible so didn't waste time on breakfast and started our trek towards Bashkargol lake. After an hour of trek we came across two shepherd's grazing their herds. We decided to do our breakfast now. They offered us fresh goat milk and in return we gave them jars of jam & honey and some black tea.
This was going to another long day. The challenging part of this day was to cross the river couple of times. Since the valley was opening up so the river was spreading which made it easy for us to cross the river but every time we had to take off our shoes.
At the mid we reached the junction of Bashkargol stream and Kachikhani stream. At this time we were trekking on the left side of Bashkargol river and for the last time we had to cross the river to the right side. But before crossing the river we found a very famous shepherd called "Gullay Kaka". He was famous among shepherds of Kumrat and Swat valleys so wherever our guide would find shepherds, he would start talking about Gullay Kaka. Gullay Kaka was tall and healthy shepherd. He offered us tea. There was a delegation of Sor Laspur village were visiting the Bashkargol valley to collect the payments from the shepherds who were grazing their herds in Bashkargol valley.
After tea break we start we resumed our trek. We crossed the river which was easy as it was spread into multiple branches at this wide open area of the valley. Before the tea break two members Wasim bhae and Khyzer were out of our sight so they missed the tea break. They kept going the left side of the river and had almost reached the edge of Bashkargol lake.
At the start of the day I had told everyone that just before Bashkargol lake we have to cross the river to the right side. But I guess Wasim bhae and Khyzer forgot it hence kept going on left side. There was too much distance between us so we sent one of the porters to bring them back and put them on the right track. After couple of hours we were altogether and started our march towards Bashkargol lake. It was an easy walk through the sandy backside of Bashkargol lake.
Just before the sunset we reached Bashkargol lake. Strong winds were blowing which were making the lake's shore look like a sea. We opted to camp around 100 meters away from the lake near a clean drinking water and also to avoid the strong winds. Last night we missed bonfire but not today hence our guide and porters got busy in making bonfire.
For few minutes I went inside my camp to change and when I came out then I found a sky full of pink and purple colors. I didn't waste a second and picked my camera and rushed towards lake's edge. I couldn't take lots of photos as it was getting dark very fast. When I took couple of photos at the lake's shore started going up on a little mountain then I found Umair coming down. I asked him to feature in my frames and it was that moment when I clicked another favorite photo from my every growing collection. Khyzer came late to the party and missed the glorious sunset.
We went to campsite, did early dinner and went to camps. Tonight our guide along with porters opted to spend night in a big cave above our camps.
Day 09: Bashkargol Lake to Sor Laspur
It was last day of our trek and our destination was Sor Laspur village in Chitral. As usual after quick breakfast we started our trek. For an hour we walked down along the Mashtuj river coming out of Bashkargol lake. Now the river was deep in a gorge so we parted our ways. This was a dry day and we didn't clean water for drinking. Since it was our first time, including our guide, so we lost the trail for a while and went through boulders which slowed us down. After an hour of struggle we came out of the boulders and found an oasis with a stream of clean water. We did a short break there and then resumed the journey. The valley was getting narrow and we were walking along the river but high on a ridge.
After an hour of trekking down we found ourselves trekking upwards. The hike was too steep and lack of clean drinking water along with scorching sunshine made it a tough day for us. Another couple of hours and we found ourselves at a top from we could see all the way towards Sor Laspur village. After a short break up there we started going down. The descend was even more steep so we had to be careful. It took as an hour to get down to the stream from the right side. We crossed that stream and were welcomed by 2 policemen. They saw coming down and were curious who we were so they noted our names and CNICs in a register and then guided us towards the village. They were locals so after an hour of walk together they left us and soon went out of our sight.
It was one hell of a tiring day as we had to cover 24km of distance which is a bit too much towards the end of a trek. I was trekking as fast as I could in order to reach Sor Laspur village and arrange a vehicle which would take us to Phander or Gilgit. When me along with Wasim bhae reached the start of the village then I thought we have reached our destination but I was wrong. We had to walk for another 2 hours to reach a football ground where finally we found some locals and luckily also saw a jeep there.
I tried to strike a deal with the jeep driver but he didn't own it and his owner wasn't willing to take us to Phander. A local asked me to go with him to his home for tea and then he can arrange a vehicle for us. Meanwhile everyone joined so and we went with that local to his home. He was a very hospitable person and brought us some food. Then he started calling few poeple including the jeep owner which we found at football ground and brought us to this guy's home.
After some struggle a jeep was arranged which would take us to Phander. We started our return journey in a old 4×4 jeep via Shandur pass. We reached Shandur pass after sunset where did a tea break in the hut hotel which remains open almost throughout the year. At midnight we reached Phander and started looking for a vehicle to take us to Gilgit. Locals helped us connect with a Toyota Hiace driver. We did dinner in a hotel and then resumed our journey towards Gilgit.
Day 09: Sor Laspur to Gilgit Overnight
As we were traveling in the night so there was no reason to make stops except for water and a stop to pluck apricots from a garden to fill our bellies.
Day 10: Gilgit to Islamabad
Early in the morning we reached Gilgit city. We did breakfast, cleared the dues of guide along with porters and hired a car taxi for ourselves to bring us home. We came over Babusar pass, did late lunch in Naran and reached home sweet home by evening in Islamabad.
---
It was  one of the best trekking trips and I enjoyed all the adventures which came in our way. It was a great start to trekking in 2018 in which I repeated some treks, e.g. Chitta Kath lake trek and Katora lake trek, and went on to explore some new destinations including Rush lake and Kutwal valley in Haramosh. Hopping 2019 will be equally awesome year from trekking and exploration point of view. For more photos from Bashkargol lake trek and many other destinations visit and follow me on Instagram at @sheraliphotography.
P.S. Our guide was Muhammad Ishaq (Is-Haaq) from Kumrat valley. He and his fellows were very cooperative throughout the trip. If you plan to do Thallo pass trek then you can contact Ishaq at 0322-9292806 and give my reference (he wouldn't know about The Silent Traveler so mention my real name i.e. Sher Ali Saafi).
If you have any questions regarding Thallo pass or Bashkargol lake then don't hesitate to ask them through the comments section below.
Also read:
Upcoming Trips: